Fast Z-MED II Pulmonary Valvuloplasty
Designed for: Pulmonary Valvuloplasty
Catheter Characteristics

The Z-MED II™ dilatation catheter provides higher pressure and in some instances a larger introducer than the Z-MED™. The coaxial shaft design provides enhanced column strength and pushability combined with a flexible distal tip for optimum steerability. This Z-MED II™ balloon catheter is available in configurations of 20mm, 22mm, and 25mm in diameter.

Radiopaque Marker

Platinum marker bands facilitate reliable positioning of the balloon.

Maximum Trackability

The distal shaft through the balloon is highly flexible for exceptional maneuverability. This, combined with the pushability of the coaxial shaft, provides outstanding tracking performance.

Product specifications

Balloon
Diameter
(MM)
Balloon
Length
(CM)
Introducer
Size
(FR)
Shaft
Size
(FR)
Usable
Length
(CM)
Guide
Wire
(Inches)
Rated
Burst
(Inches)
*Nominal
Pressure
(ATM)
Catalog
No.
20.0
4.5
11
10
110
0.035
5
2
PDZ678
22.0
4.5
12
10
110
0.035
4
2
PDZ679
25.0
4.5
12
10
110
0.035
4
2
PDZ680

* Pressure at which balloon will not exceed 10% of nominal size.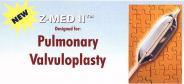 Downloads